The template settings are designed to help you customize the template for your project as quickly as possible. Find the template you downloaded from FavThemes in the STYLES tab of the Template Manager and access it. The template settings look like this: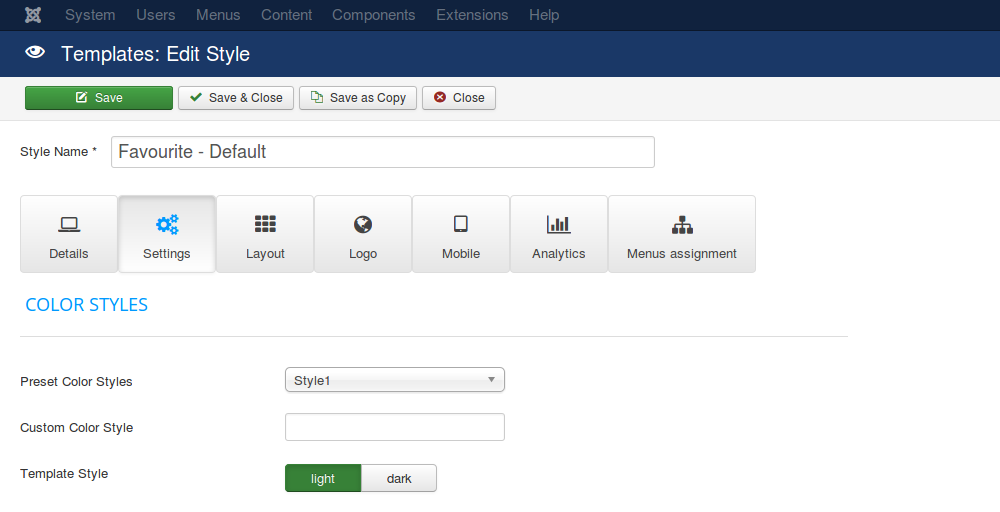 1) Details
This tab is the presentation tab for the template and has a short description of the template, with links to the demo and documentation and a preview image.
2) Settings
This tab controls the general settings of the template, the ones that let you customize the main elements such as the preset, custom and template color styles, the max width, the copyright info, the back to top link, the error page and the offline page.
3) Layout
The layout tab targets the main layout elements such as the background stripe image and module positions blocks: notice, topbar, slide, intro, lead, promo, prime, showcase, feature, focus, portfolio, screen, top, maintop, mainbottom, bottom, note, base, block, user and footer. Each one can be customized with background images and colors for the layout elements such as titles, text or links.
4) Logo
This tab was created to customize the 4 logo types supported by our templates: default, uploaded, text and retina logo. Each of them can be further customized with additional features such as slogan text, image alt, padding, margin or Google Fonts.
5) Mobile
Being a responsive product, the mobile behaviour of the template is a key element of the customization process. The tab for the mobile behaviour controls the style of the main navigation for mobile, the mobile images and the mobile font size for an improved reading experience on mobile devices.
6) Analytics
Insert the Google Analytics tracking code inside this tab. Since SEO is an important element of any website, we've created this settings tab to make the Google Analytics setup for your website as easy as possible without any code changes that require editing the template files.